With the support of Constance's family, the Biodiversity Heritage Library (BHL) has established the BHL Internship in Collection Development and Global Partnerships to honor the memory of BHL Immediate Past Chair, Constance Rinaldo.
The intent of this internship is to provide support for an undergraduate or graduate student to work on enriching academic projects related to supporting the practices and principles of collection development for the Biodiversity Heritage Library.
How to Support the Internship
Donations to support the Constance Rinaldo Internship may be made via the BHL Donations page. Please indicate in the comment box, "Donation to Support the Constance Rinaldo Internship."
We are deeply appreciative of your generosity as we celebrate Connie Rinaldo's legacy.
About Constance Rinaldo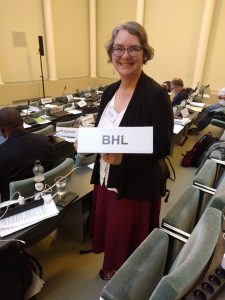 After her family and friends, BHL was Connie's greatest passion, and we are all better for it. Connie was invaluable in reminding us all of the higher goals, the higher purpose, that BHL was committed to: BHL's service to our library partners, to our global audience of researchers, and to making progress, however small, on the great challenges facing our planet and the organisms we share it with.
Connie's work as a librarian (most recently as head of the Ernst Mayr Library of the Museum of Comparative Zoology, 1999-2021), and especially her dedicated service of 17 years to BHL where she served as inaugural BHL Secretary, followed by Vice-Chair, Chair, and Immediate Past Chair, have helped many to expose the work of nature, especially as held in our BHL collections, to the world.
Connie's passion to see BHL grow beyond the initial partners in the United States and United Kingdom has resulted in a BHL that spans 19 countries and all continents but Antarctica.
Eligibility
This internship will be open to undergraduate or graduate level students, currently enrolled in a program of higher education. Additional details on eligibility and the application process will be available later in 2023.
How to Apply
This internship was established in November 2022. Applications are expected to open in November 2023 for internships taking place in the 2nd quarter of 2024.
About BHL
The Biodiversity Heritage Library (BHL) is the world's largest open access digital library for biodiversity literature and archives. BHL is revolutionizing global research by providing free, worldwide access to knowledge about life on Earth.
To document Earth's species and understand the complexities of swiftly-changing ecosystems in the midst of a major extinction crisis and widespread climate change, researchers need something that no single library can provide — access to the world's collective knowledge about biodiversity. While natural history books and archives contain information that is critical to studying biodiversity, much of this material is available in only a handful of libraries globally. Scientists have long considered this lack of access to biodiversity literature as a major impediment to the efficiency of scientific research.
Headquartered at the Smithsonian Libraries and Archives in Washington, D.C., BHL operates as a worldwide consortium of natural history, botanical, research, and national libraries working together to address this challenge by digitizing the natural history literature held in their collections and making it freely available for open access as part of a global "biodiversity community."
Other Information
Donations to BHL will be processed through the Smithsonian Libraries and Archives, which hosts the BHL Secretariat and program staff. The Smithsonian Institution is a tax-exempt organization and gifts are tax deductible.
For questions about gifts, or other ways you can support BHL, please contact Allie Swislocki, Assistant Director, Gifts and Donor Relations, Smithsonian Libraries and Archives.