Director's Report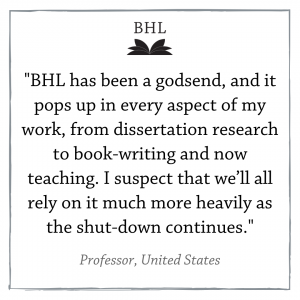 The past two years, as covered by this report, have proved the importance of BHL to the broad biodiversity community. With so many physical libraries closed for significant portions of 2020 and 2021, the resources provided by BHL have been invaluable to researchers around the world.
BHL Partners, many of whose staff have not been able to be onsite or contribute new content to BHL, have been working tirelessly on metadata enhancement to provide more and better access to our nearly 60 million pages of biodiversity literature.
Though we have missed the engagement in-person meetings bring, our BHL community, like much of the world, has transitioned to an on-screen world. In addition to our successful online Annual Meetings in 2020 and 2021, BHL actively participated in meetings or conferences such as the Global Biodiversity Information Facility (GBIF), Biodiversity Information Standards (TDWG), and the Biodiversity Community Integrated Knowledge Library (BiCIKL).
Other important work that took place, detailed below, included the finalization of the BHL 2020-2025 Strategic Plan (and development of the implementation plan) and important work to examine the broader societal impact of content in BHL that led to our Acknowledgment of Harmful Content.
The Secretariat also saw the addition of our new Program Manager, Colleen Funkhouser, and the departure of Outreach and Communication Manager, Grace Costantino. We also laid the groundwork in late 2021 for the new position of BHL Data Manager which was filled by JJ Dearborn in early 2022.
The work of BHL could not be carried out without the dedicated staff, past and present, of the Secretariat or the full support of the BHL Executive Committee led by Constance Rinaldo. In turn, we are all supported by the hundreds of staff at BHL partner institutions who provide the content, services, and expertise that make the global consortium so unique. Like the researcher quoted at the top who finds BHL in all aspects of their work, all of BHL is infused with the work and contributions of our partners and their staff.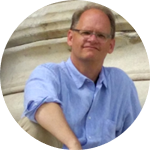 Martin R. Kalfatovic
Biodiversity Heritage Library Program Director
---
Program News
2020 BHL Annual Meeting
Like many organizations around the world, BHL was compelled to move the 2020 BHL Annual Meeting to a virtual environment. A combination of pre-recorded video presentations and live virtual sessions in May replaced the in-person meeting planned from April. Three video calls brought together 38 participants from 24 institutions and organizations, representing eight countries, and provided an opportunity for interaction and discussion even while separated by (in some cases great) distances. Learn more.
2021 BHL Annual Meeting
For our second virtual annual meeting from 12-16 April 2021, BHL partnered with our virtual host, Muséum national d'histoire naturelle (MNHN), to coordinate a week-long series of social events, business meetings, a public BHL day, and a collaborative closing session from MNHN and the National Library Singapore. BHL Day 2021: Reflections in Crises included sessions reflecting on BHL's roles in addressing the biodiversity crisis, challenges arising from COVID-19, and systemic racism in natural history collections. This was also an election year for the BHL Executive Committee. Members voted to continue Constance Rinaldo's term as Chair for one additional year, and to elect David Iggulden (Library, Art & Archives at the Royal Botanic Gardens, Kew) as Vice-Chair and Kelli Trei (Library, University of Illinois at Urbana-Champaign) as Secretary. Learn more.
Supporting the Biodiversity Community through Global Biodiversity Projects
Throughout 2020 and 2021, BHL continued to participate in a number of global biodiversity projects. In October 2020 as part of the TDWG 2020 virtual conference, BHL hosted a symposium, "SYM03 Enhancing Connections With the Global Neighbourhood Through Expanding Partnerships," coordinated by BHL Chair, Constance Rinaldo and BHL Program Manager, Colleen Funkhouser. The symposium consisted of four talks, covering topics including building BHL's technical strategy, digital object identifiers (DOIs), taxonomic name finding services, and BHL's response to the global COVID-19 pandemic. During the week of 20-24 September 2021, Connie Rinaldo and BHL Program Director, Martin Kalfatovic, participated in a hybrid hackathon as part of the Biodiversity Community Integrated Knowledge Library (BiCIKL) project. Connie and Martin also participated in the Global Biodiversity Information Facility Governing Board (GBIF GB28) meeting from 5-7 October 2021. As part of the TDWG 2021 virtual conference, BHL hosted a symposium, "SYM11 Building collaborative resiliency through the Biodiversity Heritage Library," organized by Constance Rinaldo and Colleen Funkhouser, and featuring six talks from speakers around the world. Learn more.
BHL Members Approve New Strategic Plan
In April 2020, BHL members unanimously approved the BHL Strategic Plan 2020-2025. BHL Members and Affiliates then spent the summer collaborating to define specific implementation tasks for each of the five strategic goals, setting priorities and timelines for each.
Acknowledgment of Harmful Content
In October 2021, BHL released an Acknowledgment of Harmful Content, which is now linked from the header of all pages within the BHL site. We are assessing our role as a digital library and the responsibility we have to question our neutrality and address harm without reducing access. Over the course of 2020, BHL rethought the implementation of our strategic plan with the goal to challenge ourselves towards more equitable collection management, technical development, outreach, partnership development, and mission enabling practices. As a global consortium with a variety of social, cultural, epistemological, and political factors at play, we are unified in our commitment to advancing equity in the global biodiversity community while also maintaining access to the historical record. Learn more.
BHL Records Now Available in WorldCat
In March 2020, BHL added its bibliographic records to OCLC's WorldCat® database, extending the discoverability and access of BHL e-books through its variety of tools and services. Learn more.
BHL Improves the Speed and Accuracy of its Taxonomic Name Finding Services with gnfinder
In July 2020, BHL deployed a new taxonomic name finding tool to improve the speed and accuracy of identifying names throughout its 58+ million pages. BHL is now using Global Names Architecture's (GNA) gnfinder tool to locate taxonomic names in the BHL corpus. Learn more.
BHL Launches New Persistent Identifier Working Group
In October 2020, BHL launched a new working group with a momentous goal: to make the content on BHL persistently discoverable, citable, and trackable using DOIs (Digital Object Identifiers). BHL has been retrospectively registering DOIs for historic publications since 2011, but the focus has primarily been on monographs. BHL's new Persistent Identifier Working Group (PIWG) is focusing on journal articles. Registering DOIs for articles on BHL is a far more complex and time-consuming task than registering DOIs for monographs. The PIWG has been developing tools and best practices so BHL contributors can complete this valuable work. In 2021 alone, more than 11,100 new BHL DOIs were registered. Learn more.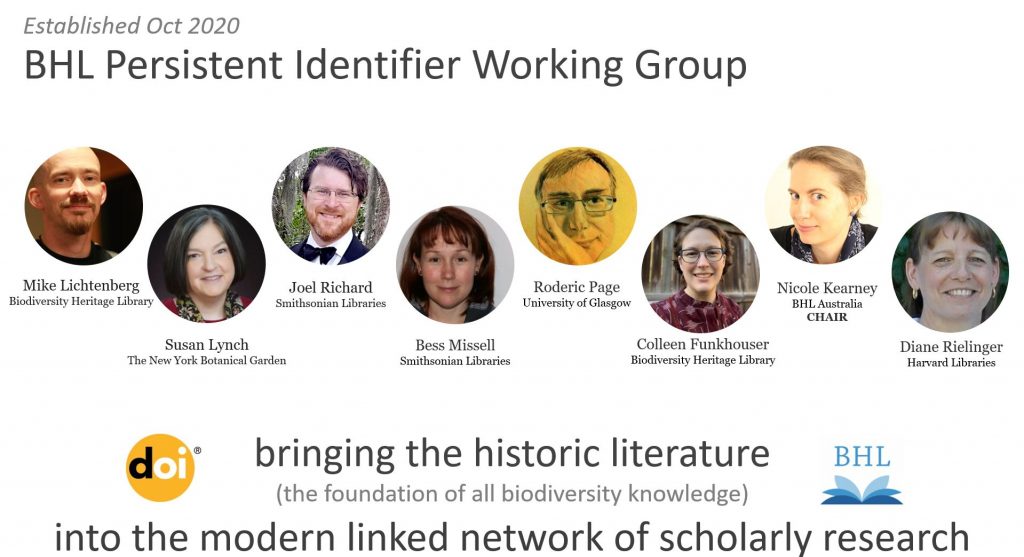 BHL Australia Turns 10
In June 2020, BHL Australia celebrated its 10 year anniversary, having grown from a single contributing organization (Museums Victoria) to 27 across the country. Together these organizations have contributed more than 350,000 pages from over 2,400 volumes. Learn more.
BHL Welcomes New Program Manager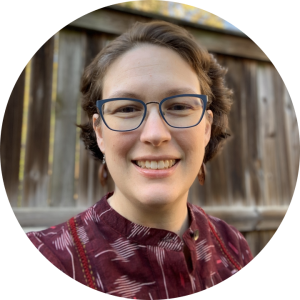 In March 2020, BHL welcomed a new Program Manager, Colleen Funkhouser, to the BHL Secretariat. As Program Manager, she works to build strategic partnerships and to maintain and grow the infrastructure and services of BHL. The Program Manager position was formerly held by Carolyn Sheffield, who left BHL in March 2019. Learn more.
Farewell to Grace Costantino (BHL Outreach and Communication Manager)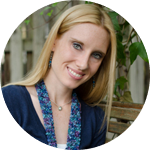 In July 2021, BHL bid a fond farewell to Grace Costantino, BHL Outreach and Communication Manager. In her tenure as Outreach and Communication Manager, Ms. Costantino developed and managed BHL's communication strategy, oversaw social media initiatives, and engaged with the public to excite audiences about the wealth of biodiversity literature available in BHL. With Ms. Costantino's departure, a number of BHL outreach activities were placed on hiatus.
BHL Flickr Publicity
BHL—and particularly our Flickr photostream—received fantastic publicity in February 2020, being highlighted by: Colossal, Laughing Squid, Český rozhlas, ZME Science, Cultura Inquieta, Hyperallergic, Graffica, Smithsonian Magazine, Open Culture, la Repubblica, Genbeta, My Modern Met (en Español), eCulture Greece, Daily Geek Show, Вокруг Света, Atlas Obscura, Shifter, Lifehacker, Indiehoy, Microsiervos, and Vice.
We saw significant increases in visits to BHL and engagement with Flickr content in February 2020 as a result of this publicity. Some highlights include:
BHL's homepage trended in Google Search the first weekend in February, during which time we saw a 165% increase in average daily clicks to our homepage from Google search (662.7 compared to 250.3 average).
A 102% increase in visits to BHL in February 2020 (441,110) compared to 2019 monthly average (218,256) and a 122% increase in unique visitors to BHL in February 2020 (284,729) compared to the 2019 monthly average (128,459).
518% increase in daily views on Flickr images (2.5 million daily views compared to 400,000 average).
Improving BHL Image Discovery Through Flickr
BHL saw a significant increase in use of our Flickr photostream in 2020 and 2021, due to widespread publicity that we received in February 2020 as well as our focus on Flickr uploading as a telework project for BHL staff looking for remote work opportunities during the pandemic. To support a telework project, we created new training materials, set up a mentorship program to support new uploaders, and launched projects to build a queue of Flickr upload requests in Gemini to support staff work. With the departure of our BHL Outreach and Communication Manager in July 2021, our Flickr uploading project was placed on hiatus. Though no new images are being uploaded, the existing images will remain available for viewing and tagging via the BHL Flickr photostream.
Over 166,000 new images added to Flickr in 2020 and 2021, for a grand total of 319,620 images. That's more images uploaded in two years than all previous years combined!
4,000+ new images tagged as part of our citizen science activities.
Over the course of expanded COVID-19 telework, we welcomed 27 new people to our Flickr group to support Flickr-related activities, including pagination and/or Flickr upload. A total of 42 people participated in our group to perform Flickr-related pagination or upload activities in 2020 and 2021.

Earth Optimism Campaign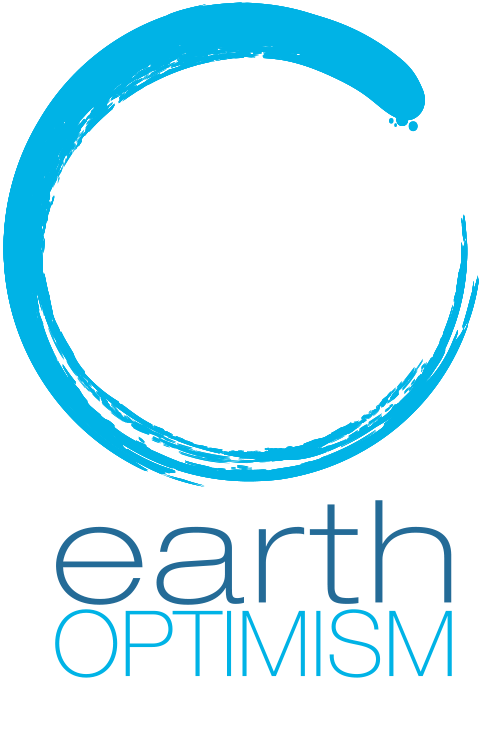 For its 2020 pan-consortial social media campaign, BHL participated in the global Earth Optimism movement, an initiative launched in 2017 to celebrate conservation success stories and "turn the conservation conversation from doom and gloom to optimism and opportunity." BHL's participation, originally planned for April 2020, was focused on sharing conservation success stories from and made possible by the BHL collection through social media posts, blog posts, events at partner institutions, and an Earth Optimism-themed book collection featuring works by important contributors to conservation history. In light of the COVID-19 pandemic, the BHL campaign was postponed and ultimately launched on 25 June 2020, after which blog posts were published approximately once weekly for the remainder of 2020. Read more in the BHL Earth Optimism blog series.
---
2020-2021 Collection Stats
---
2020-2021 Access Stats
---
2020-2021 Outreach Stats
---
BHL Research Impact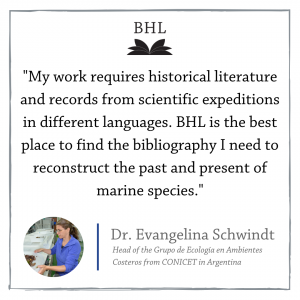 The solitary sea squirt Ascidiella aspersa is native to the Northeastern Atlantic, from the Mediterranean Sea to Norway. Living in shallow sheltered sites and harbors, this species has a fast growth rate and is able to produce a large number of larvae. These attributes have helped make it a successful colonizer of non-native environments, such as the Southwestern Atlantic, where it has become an invasive species likely introduced via ships. Dr. Evangelina Schwindt, Head of the Grupo de Ecología en Ambientes Costeros from CONICET in Argentina, studies Ascidiella aspersa as part of her research as a marine invasive ecologist. Her work involves researching the interactions between invasive and native species, the patterns and processes occurring in biological invasions from the historical and present-day perspectives, the impact caused by invasive species, and the management strategies that can be applied. Learn more.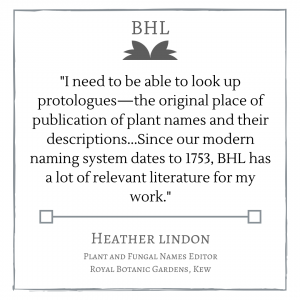 At the end of the twentieth century, The Royal Botanic Gardens, Kew, The Harvard University Herbaria, and The Australian National Herbarium began collaboration on an ambitious project—to create an online index of names for all of the world's vascular plants. By combining the data in the nomenclatural indices of these three institutions, the collaboration created the International Plant Names Index (IPNI). Hosted by the Royal Botanic Gardens, Kew, today the database includes over 1.6 million records. As part of the provided nomenclatural information, IPNI includes bibliographic details linked to scanned literature in BHL and links to taxonomic data through the Plants of the World Online. Learn more.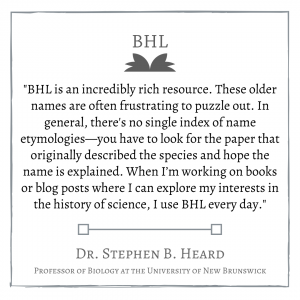 Eponymous scientific naming, or the practice of naming a species after an individual, is the subject of Dr. Stephen B. Heard's book, Charles Darwin's Barnacle and David Bowie's Spider. Klaas's cuckoo is the earliest example of a species being named after an Indigenous person that Heard has been able to trace. While researching the name for his book, Heard relied on BHL to access Le Vaillant's description of Klaas's cuckoo and uncover more about the story behind the name. Learn more.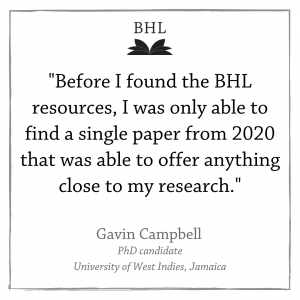 The effects of climate change are expected to increase the potential range of Aedes aegypti, the yellow fever mosquito. The aquatic insect Notonecta indica preys on Aedes aegypti mosquitoes in the Americas. Gavin Campbell, a PhD candidate at the University of the West Indies in Jamaica, is researching this predator / prey relationship as part of his PhD. BHL has been an invaluable resource for this research. Learn more.
---
About the Biodiversity Heritage Library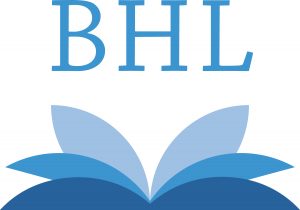 As the world's largest open access digital library for biodiversity literature, the Biodiversity Heritage Library (BHL) is transforming the way scientists, researchers, and librarians around the world access knowledge about and study life on Earth.
Natural history books and archives provide information that is critical to studying biodiversity. Replete with species data, ecosystem profiles, distribution maps, behavioral observations, and geological and climatic records, this literature underpins current scientific research and provides an historical perspective on species abundance, habitat alteration, and human exploration, culture, and discovery.
Through a worldwide partnership of natural history and botanical libraries, BHL provides free online access to over 60 million pages of biodiversity books and journals from the 15th-21st centuries. Additionally, BHL has made over 300,000 of the illustrations within its collection available on Flickr. Tools and services such as taxonomic name finding tools, custom PDF downloads, and open APIs allow users to easily locate and reuse these resources. BHL also supports a variety of volunteer opportunities that encourage the public to help enhance collection data.
Since the Library was founded in 2006, BHL has served over 13 million people in over 240 countries and territories around the world. In 2021, BHL averaged more than 247,000 visits per month, constituting over 24 million visits over the Library's lifetime.
BHL would also like to thank our many generous donors from 29 countries who collectively made 267 donations, amounting to 75,627 USD, in 2020 and 204 donations, amounting to 20,060 USD, in 2021.
By engaging with the scientific community to identify user needs, incorporating tools that facilitate data discovery and reuse, and continuing to grow collections under open access principles by fostering existing and establishing new partnerships with libraries and data providers around the world, BHL has become an unparalleled resource that serves as a standard for taxonomic literature aggregation, discovery and presentation as well as a model for other digital library initiatives.