The Mining Biodiversity project is an international collaboration between the University of Manchester's National Centre for Text Mining (UK), Missouri Botanical Garden's Center for Biodiversity Informatics (USA), Dalhousie University's Big Data Analytics Institute and Ryerson University's Social Medial Lab (Canada).
Goal
The overarching goal of the Mining Biodiversity project is to transform the Biodiversity Heritage Library (BHL), a digital library of over 40 million pages of taxonomic literature, into a next-generation social digital resource to facilitate the collaborative study and discussion of legacy biodiversity documents by a worldwide community. Furthermore, it aims to raise awareness of the changes in biodiversity over time in the general public.
As the BHL holds an immense amount of biodiversity documents, the project will leverage text mining and visualization methods, crowdsourcing and social media to effectively serve its users with semantically enriched content. The resulting digital resource will provide fully interlinked and indexed access to the full content of BHL library documents, via semantically enhanced, interactive browsing and searching capabilities, allowing users to precisely and conveniently locate the information of interest to them.
This project was made possible in part by the Institute of Museum and Library Services [LG-00-14-04-0032-14]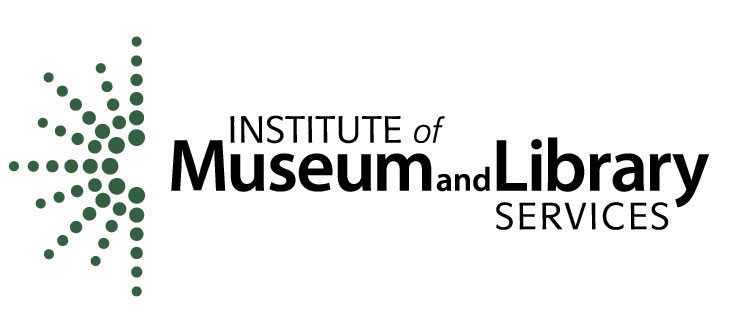 Project Team (USA)
Missouri Botanical Garden
William Ulate, Senior Project Coordinator, Center for Biodiversity Informatics, P.I.
Trish Rose-Sandler, Data Project Coordinator, Center for Biodiversity Informatics
Mike Lichtenberg, Programmer, Center for Biodiversity Informatics
Collaborators:
Jennifer Hammock, Marine Theme Coordinator, EOL
Grace Costantino, BHL Outreach and Communication Manager
Original Proposal & Schedule
Significance
Project Narrative
Project Management, Dissemination, and Communications Plan
Architecture
Proposed Architecture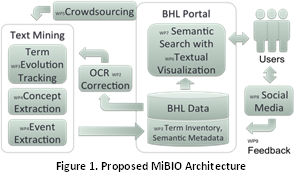 MiBio Software Modules Diagram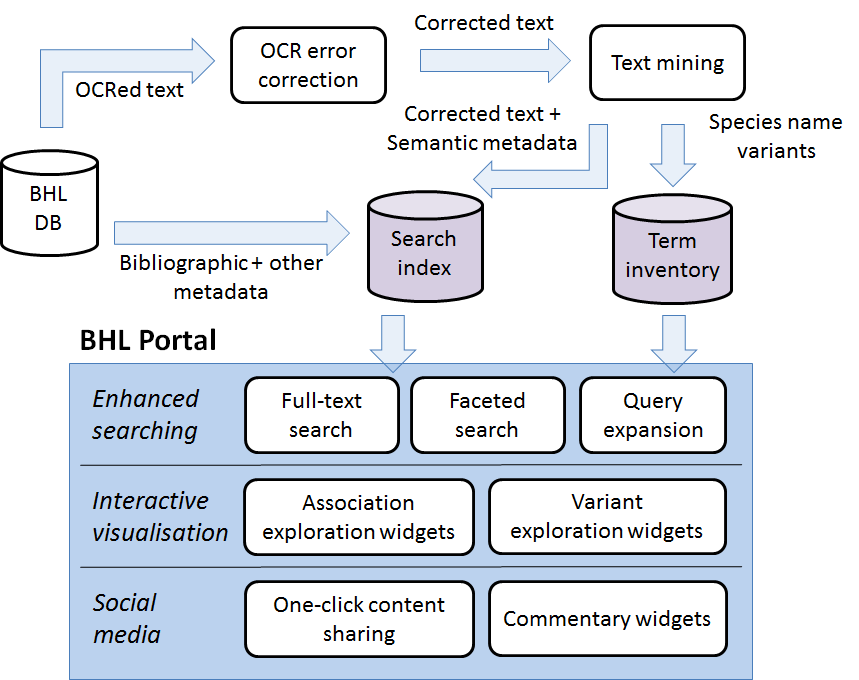 Reports
Presentations/Papers
Social Media
Full Text Search Related:
Disqus Comments Feature:
Altmetrics & MyTweeps Application:
Initial Grant Award
Related
Contact Us
For more information please contact the project's Principal Investigator (USA), William Ulate-Rodríguez at +1 (314) 577-9473 x6398 or william.ulate@mobot.org.