Purposeful Gaming and BHL: Engaging the Public in Improving and Enhancing Access to Digital Texts.
The Purposeful Gaming project has now ended and BHL is no longer utilizing outputs from the games created as part of this project: Smorball and Beanstalk. However, both games will remain live for your continued enjoyment.
Learn more about the Purposeful Gaming project in the sections below.
Project Overview
Note: The Purposeful Gaming project period has now ended. The project ran from December 2013-November 2015.
Purposeful Gaming and BHL, which has been generously funded by the Institute of Museum and Library Services (IMLS), aimed to significantly improve access to digital texts through the applicability of purposeful gaming for the completion of data enhancement tasks needed for content found within the Biodiversity Heritage Library (BHL). This project tackled a major challenge for digital libraries: full-text searching of texts is significantly hampered by poor output from Optical Character Recognition (OCR) software. Historic literature has proven to be particularly problematic because of its tendency to have varying fonts, typesetting, and layouts that make it difficult to accurately render. The European Union's IMPACT project, a 2008-2012 effort to improve access to texts, states that poor OCR "does in many cases not produce satisfying results for historical documents. Recognition rates are poor or even useless. No commercial or other OCR engine is able to cope satisfactorily with the wide range of printed materials published between the start of the Gutenberg age in the 15th century and the start of the industrial production of books in the middle of the 19th century." This state of affairs illustrates the pressing need to identify additional solutions to OCR for improving access to digital texts.
BHL is an international consortium of the world's leading natural history libraries, including the Missouri Botanical Garden's Peter H. Raven Library, that have collaborated to digitize the public domain literature documenting the world's biological diversity. This has resulted in the single largest, open-licensed source of biodiversity literature made available both through the Internet Archive and through a customized portal at http://www.biodiversitylibrary.org. BHL is a perfect testbed for investigating alternate solutions to the generation of digital outputs both because it is a significantly large corpus (57 million pages of scanned texts accompanied by 57 million OCR outputs) and because most of its content is historic literature (the majority of BHL content was published between 1450s-1900s). OCR is also largely ineffective on hand-written texts such as field notebooks—a growing content type in BHL.
Purposeful Gaming and BHL sought to demonstrate whether or not digital games are a successful tool for analyzing and improving digital outputs from OCR and transcription activities because large numbers of users can be harnessed quickly and efficiently to focus on the review and correction of particularly problematic words by being presented the task as a game.
The project ran from December 1, 2013 through November 30, 2015 and was conducted by the Missouri Botanical Garden's Center for Biodiversity Informatics (CBI) in partnership with Harvard University, Cornell University, and the New York Botanical Garden.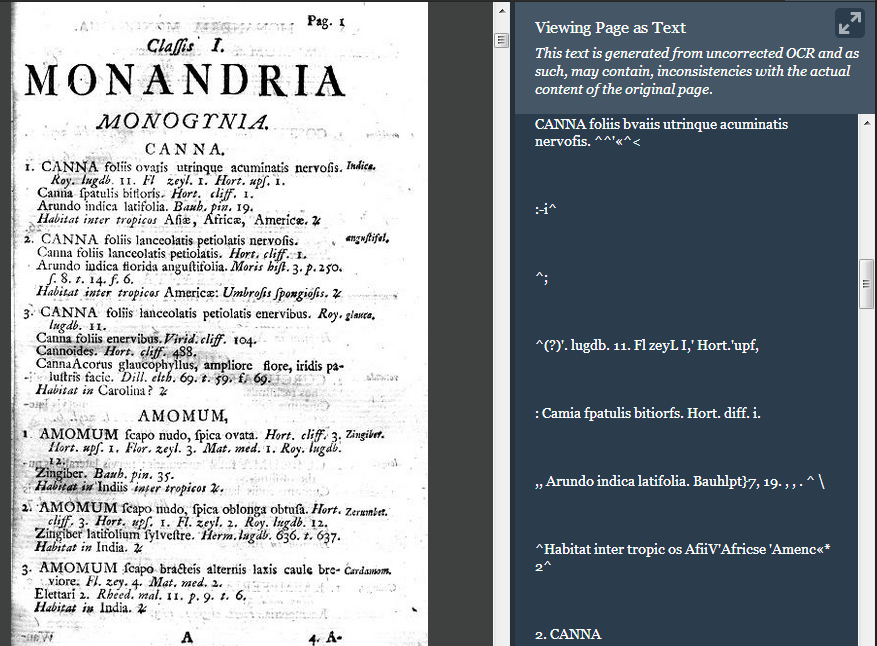 A sample of poor OCR output from an 18th century publication.
This page is from Linneaus' Species Plantarum published in 1753. An image of the original text is on the left. The OCR is on the right.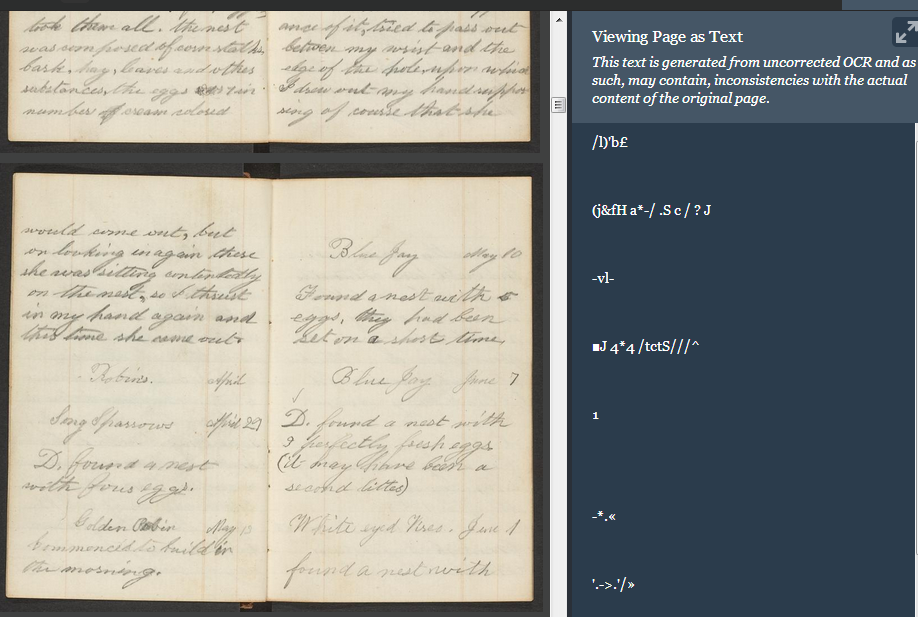 A sample of poor OCR output from a hand written text. This page is from the Diaries of William Brewster, 1865-1919.
About Smorball
Smorball wins "Best Serious Game" award at Boston Festival of Indie Games!

Players of the more challenging Smorball game are asked to type the words they see as quickly and accurately as possible to help coach their team, the Eugene Melonballers, to victory to win the coveted Dalahäst Trophy in the fictional sport of Smorball. Each word typed correctly defeats an opposing smorbot and brings the Melonballers closer to the championships.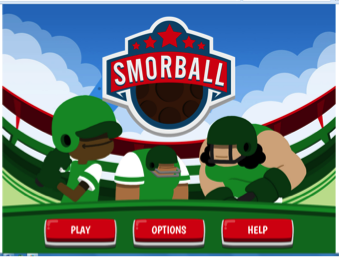 Smorball Homepage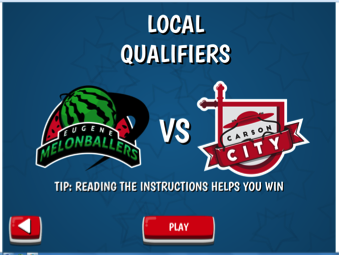 Smorball Loading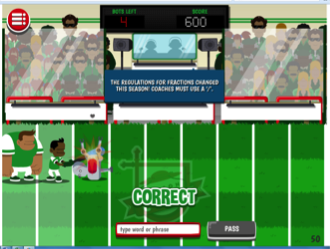 Smorball Gameplay
About Beanstalk
Players of the more relaxed Beanstalk game must type the words presented to them correctly in order to grow their beanstalk from a tiny tendril to a massive cloudscraper. The more words they type correctly, the faster the beanstalk grows. Players who accurately transcribe the most words will ascend to the top of the leaderboard as a result of their valuable contributions.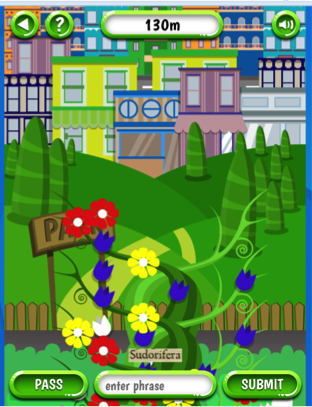 Beanstalk Game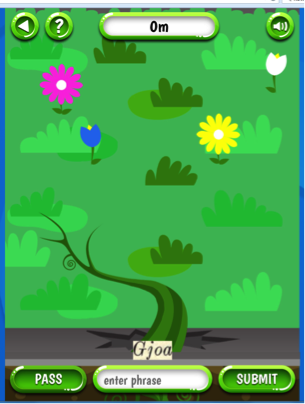 Beanstalk Start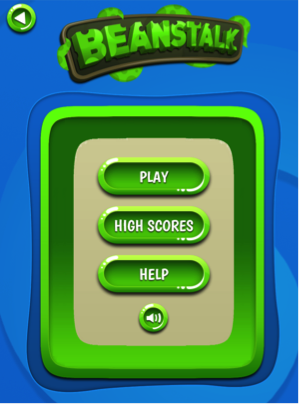 Beanstalk Menu
Both Smorball and Beanstalk were designed by Tiltfactor and are licensed as Free and Open Source Software (FOSS).
Integrating material from non-BHL partners is not supported for the versions of these games created for the Purposeful Gaming project, but the good news is the games and their supporting software are open source so you can fairly easily host your own.
There are a few steps to hosting your own Smorball or Beanstalk games:
1. Prepare your material. The games are OCR correction games, and in order for them to function they take data in the form of single words that different OCR software disagree on their interpretations of. Each "difference" sent to the games must have a page image URL, a location on that page image, and two strings that represent what the two OCR software THINK the word is. It's from these two strings that the games estimate whether or not the player has typed the right answer.
2. Host the game(s) and the game backend. You can find the game code here: https://github.com/tiltfactor/smorball and the code for the game database and data management server here: https://github.com/tiltfactor/SmorballBeanstalk-Backend.
3. Configure the games. If you want to run Beanstalk, make sure your version of Beanstalk has its own high score database (via parse.com). If you want the facebook and twitter buttons in your Smorball to go to your social media accounts, generate facebook and twitter developer API keys, etc.
Project Team
Missouri Botanical Garden
Trish Rose-Sandler, Data Project Coordinator, Center for Biodiversity Informatics
William Ulate, Senior Project Coordinator, Center for Biodiversity Informatics
Mike Lichtenberg, Programmer, Center for Biodiversity Informatics
Stephen Kappel, Programmer, Center for Biodiversity Informatics
Doug Holland, Director, Peter H. Raven Library
Mike Blomberg, Imaging Lab Coordinator, Peter H. Raven Library
Chuck Miller, Vice President of Information Technology and Chief Information Officer
Ernst Mayr Library of the Museum of Comparative Zoology at Harvard University
James Hanken, Director of the Museum of Comparative Zoology
Constance Rinaldo, Librarian of the Ernst Mayr Library
Joe deVeer, Project Manager
Robert Young, Special Collections Librarian
Patrick Randall, Outreach and Communications
The LuEsther T. Mertz Library, New York Botanical Garden
Susan Fraser, Director
Susan Lynch, Systems Librarian
John Mignault, Systems Librarian (previous)
Kevin Nolan, Digital Projects Manager
Lisa Studier, Metadata Cataloger
Yumi Choi, Catalog Librarian
Andrew Tschinkel, Scanning Technician
Paul Silverman, Scanning Technician
Cornell University Library
Martin Schlabach, Librarian
Kevin Nixon, Professor of Botany
Holly Mistlebauer
Original Proposal & Schedule
Word Comparison across Outputs.
Reports
Presentations/Papers
Media Coverage
Games Coverage
Featured Texts
Choice of Game Designer
Initial Grant Award
Related