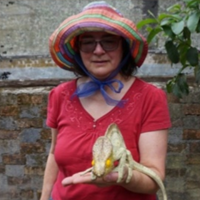 Founding Secretary, BHL Members' Council
Former Head, Ernst Mayr Library of the Museum of Comparative Zoology, Harvard University
Constance Rinaldo was the Librarian of the Ernst Mayr Library of the Museum of Comparative Zoology at Harvard University from 1999-2021. She was a founding member (2005) of the Biodiversity Heritage Library, working with an international consortium of natural history and botanical libraries in the digitization of taxonomic literature. She served as Secretary, Vice-Chair, Chair, and Immediate Past Chair of the BHL Executive Committee.
Connie earned a BA in Biology and Anthropology from the University of Massachusetts, Boston, an MSc in Zoology from the University of Connecticut, and an MLS from the University of Maryland. Before Harvard, Connie spent 10 years as the Head of Collections in the Biomedical Libraries at Dartmouth College and along with her MLS work, was an assistant in the National Text Digitizing project at the National Agricultural Library, an early digitization project. Connie also worked with the Digital Library for Earth Systems Education (DLESE), analyzing collections.
Connie was passionate about biodiversity and natural history and working with local, national and global partners to make library collections connected, open and accessible for all.