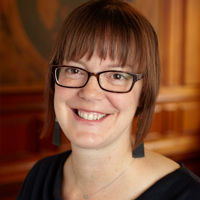 Vice-Chair, BHL Members' Council
Biosciences Librarian at the Funk ACES Library, Associate Professor, University Library, University of Illinois at Urbana-Champaign
Kelli Trei manages the collection and performs instruction, research, and reference services for the Schools of Life Sciences: Integrative Biology and Molecular & Cellular Biology, and the Carl R. Woese Institute for Genomic Biology. Her research interests include investigating the information needs of scientists and the skills science librarians must possess to meet these needs. Kelli received her B.S. in microbiology from Illinois in 1999, and her MLIS from Illinois in 2012. Before becoming an academic science librarian, she worked as a research scientist for Archer Daniels Midland Co. for 14 years. Kelli is active in various library organizations and the American Association for the Advancement of Science. She is deeply committed to the work of the BHL in democratizing scientific information and making it available to scientists and our extensive interdisciplinary users worldwide.