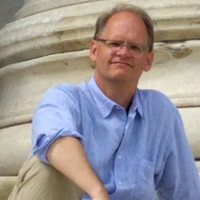 BHL Program Director
BHL Secretariat
Martin Kalfatovic is Associate Director of the Smithsonian Libraries and Archives Digital Programs and Initiatives, responsible for the Libraries' active Digital Library program. This program includes the creation of digital editions of library materials, online exhibitions, and new digital publications. Mr. Kalfatovic also serves as the coordinator for the Libraries' participation in the Biodiversity Heritage Library, working with an international consortium of natural history and botanical libraries in the digitization of taxonomic literature.
He is a regular speaker at conferences and professional meetings on the topics of library technology, digitization, digital libraries, and online exhibitions. Mr. Kalfatovic is an active member of the library community, having served as the editor of Technology Electronic Reviews (TER), the Library and Information Technology Association Newsletter, the webmaster for LITA, and as an adjunct faculty member of the School of Library and Information Science at The Catholic University in America, where he taught courses in library technology and art and museum librarianship.
Kalfatovic holds an M.S.L.S, from the School of Library and Information Science, The Catholic University of America as well as a B.A. from The Catholic University of America.