Director's Report
In 2022 BHL began to meet in person after two years of the global COVID-19 pandemic. BHL partners gathered in Edinburgh, Scotland, for the 2022 BHL Annual Meeting, held in conjunction, for the first time, with the Society for the Preservation of Natural History Collections (SPNHC). This meeting, held in June, was our first hybrid meeting.
2022 also saw the return to in-person meetings for the Global Biodiversity Information Facility (GBIF) of which BHL is an associate partner. At the GBIF Governing Board 29 meeting, held in Brussels, Belgium, there was an opportunity to meet with many colleagues and learn of new developments at GBIF.
BHL also began the process of adding new partners during 2022. Discussions and planning for additional partners took place over the course of the year, culminating with the formal agreements to add Dumbarton Oaks Research Library and Collection and Meise Botanic Garden | Plantentuin Meise in early 2023.
JJ Dearborn joined the BHL Secretariat in early 2022 and immediately improved workflows and planning around BHL data projects. Related to JJ's work were critical upgrades for the BHL platform to ensure the sustainability of our services for our global users. Although BHL's basic technical infrastructure remains the same, consisting of years of refinement, knowledge, and reliability, a few updates were definitely in order. Most of these upgrades were "behind-the-scenes" work and would not be noticeable to a majority of our users. However, keeping up with these important enhancements is a crucial component of any technology project.
A significant achievement, led by BHL Collections Manager Bianca Crowley and Immediate Past Chair Constance Rinaldo, was the total reenvisioning of the BHL Collection Development Policy. Thanks are also due to the BHL Collections Committee and other BHL staff who assisted with the revision.
The BHL community lost important members during the past year. David Remsen (Marine Biological Laboratory) was a key figure in the informatics that underlie BHL. And, notably, long time BHL leader, Constance A. Rinaldo. Connie's loss has reverberated across BHL and she will be missed.
On a personal note, 2022 also marked my tenth year serving as the Program Director of the Biodiversity Heritage Library. It's been an honor and pleasure to work with current and past BHL staff over the years and watch as BHL has transformed the biodiversity landscape through all your efforts.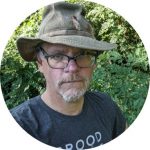 Martin R. Kalfatovic
Biodiversity Heritage Library Program Director
---
Program News
2022 BHL Annual Meeting — A Global Hybrid


In June 2022, BHL joined with the Society for the Preservation of Natural History Collections (SPNHC) and the Natural Sciences Collections Society (NatSCA) to host our meetings in Edinburgh, Scotland. After two years of fully virtual annual meetings, we were fortunate to have this 2022 meeting as a hybrid virtual/in-person event. As part of the joint meeting, BHL organized two symposia that took the place of the usual "BHL Day" events. BHL Program Director Martin Kalfatovic and former BHL Chair Constance Rinaldo organized the first symposium titled "Liberating Natural History Collections Data in Biodiversity Literature," which brought together colleagues from across the biodiversity spectrum to show the importance of BHL in the larger sphere of biodiversity. The second BHL symposium, organized by BHL Vice-Chair David Iggulden and Secretary Kelli Trei, "Reflections on the Biodiversity Heritage Library: Value in Collections and Collaboration," focused on presentations by BHL staff and discussed projects and programs within BHL. Learn more.
Global Biodiversity Information Facility (GBIF) 29th Governing Board Meeting (GB29)
The Global Biodiversity Information Facility (GBIF) convened for the 29th Governing Board meeting (GB29) in a hybrid format in early October 2022. This was the first meeting with in-person attendance since the GB26 held in conjunction with the Biodiversity_Next meeting in Leiden (20-25 October 2019). BHL Program Director Martin Kalfatovic attended the meeting in person in his role as BHL Node Manager as well as Alternate Representative for the United States (and Second Vice Chair of the GBIF Budget Committee). While in Belgium for GB29, Martin also met with colleagues at Meise Botanic Garden to discuss opportunities for new collaborations with BHL and possibilities for incorporating content from the BHL Europe project. Learn more.
BHL Executive Committee Elections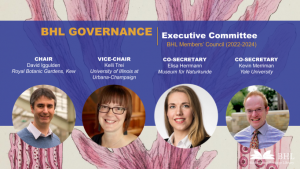 This year was an election year for the BHL Executive Committee. David Iggulden (Library, Art & Archives at the Royal Botanic Gardens, Kew) was elected as Chair. Kelli Trei (Library, University of Illinois at Urbana-Champaign) was elected as Vice-Chair. For the first time, BHL elected Co-Secretaries, Elisa Herrmann (Leibniz-Institut für Evolutions- und Biodiversitätsforschung, Museum für Naturkunde) and Kevin Merriman (Marx Science and Social Science Library, Yale University Library). You can learn more about the Executive Committee members of the BHL Members' Council for the 2022-2024 term on the BHL About site.
The Vast Library of Life: 15 Years of the BHL Portal
May 9, 2022 marked the 15th anniversary of the launch of the BHL website. At the launch in 2007, BHL had 306 titles, 3,236 volumes, and 1,271,664 pages of taxonomic literature. Today, BHL has grown to become a global consortium of natural history, botanical, research, and national libraries and hosts over 60 million pages and more than 281,000 volumes. Growing out of the vision of Harvard entomologist E.O. Wilson for an "encyclopedia of life" that would provide a page for every species, BHL joined forces with a nascent Encyclopedia of Life in 2006. Under the guidance of Cristián Samper (National Museum of Natural History, Smithsonian Institution) and leaders from four additional cornerstone institutions (the Field Museum, Harvard University, the Marine Biological Laboratory, and the Missouri Botanical Garden), BHL served as the literature cornerstone of EOL. BHL and EOL received vital funding from the John D. and Catherine T. MacArthur Foundation, and the switch was flipped on an important new player in the biodiversity landscape at a celebration hosted by the National Academy of Sciences. Learn more.
10 Years of BHL Growth and Transformation While Program Director
Also in 2022, Martin Kalfatovic marked his 10th anniversary as Program Director of BHL. Martin took this opportunity to reflect on 10 years of growth as BHL expanded its global consortium, coordinated grant funded initiatives with a number of BHL partners, and received a number of awards. Learn more.
Welcome to JJ Dearborn, BHL Data Manager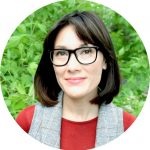 BHL announced the new position of Data Manager in 2022. The new position, which is part of the BHL Secretariat hosted at the Smithsonian Libraries and Archives, is responsible for the oversight and management of BHL's digital data collections. BHL welcomed JJ Dearborn to the position in January. Learn more.
New Collection Development Policy
The BHL Collections Committee completed a comprehensive review and revision of BHL's collection development policy in 2022. The new policy is written to provide recommendations and serve the collection management needs of BHL Partners. As a key objective of BHL's Strategic Plan, the new policy is a significant revision to the original policy written in 2010. In learning together as a collaborative community of practice since then, our understanding of BHL collection management has been expanded and refined to:
clarify collection management priorities;
articulate our responsibility to pursue more diverse perspectives;
outline BHL Partner expectations;
better define our scope;
describe BHL-specific curation best practices; and
provide transparency by posting the complete policy via BHL's About Site.
Going forward, the collection development policy will be reviewed on a yearly basis for minor updates. Learn more.
In Memoriam: Constance Rinaldo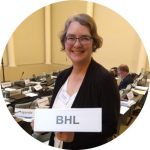 In October 2022, the BHL community was shocked and saddened by the sudden loss of BHL Immediate Past Chair, Constance Rinaldo. After her family and friends, BHL was Connie's greatest passion. Connie was invaluable in reminding us all of the higher goals, the higher purpose, that BHL was committed to: BHL's service to our library partners, to our global audience of researchers, and to making progress, however small, on the great challenges facing our planet and the organisms we share it with. Her work as a librarian and especially her dedicated service of 17 years to BHL where she served as inaugural BHL Secretary, followed by Vice-Chair, and then Chair, have helped many to expose the work of nature, especially as held in our BHL collections, to the world. With the support of Connie's family, BHL has established an internship to honor her memory. A celebration of Connie's life is being planned as part of the 2023 BHL Annual Meeting. Learn more.
In Memoriam: David Remsen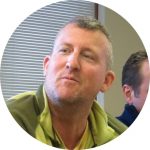 In December 2022, BHL lost another key founding figure – David Remsen. As a staff member of the MBLWHOI Library working with BHL's inaugural Vice-Chair, Cathy Norton, David's innovative and groundbreaking work in taxonomic name finding (uBio) and parsing taxonomic index (Nomenclature Zoologicus) laid the groundwork for much of BHL's taxonomic infrastructure powered by the Global Names Architecture. In 2006, at the Smithsonian meeting that formalized the creation of BHL, David, along with eventual founding Technical Director Chris Freeland, led the work that incorporated groundbreaking taxonomic bioinformatics in the eventual BHL user interface. That same year, he joined key BHL organizers at the TDWG meeting at the Missouri Botanical Garden that outlined the informatics components of BHL. Learn more.
---
Technical Development
OCR Improvements: An Early Analysis
Optical character recognition (OCR) plays a critical part in BHL's contributions to the scientific community. BHL uses OCR to process all the page images in our collection so that the text contained within the images can be indexed and made searchable in support of full text search functionality and the taxonomic name finding algorithm. Recently, our colleagues at the Internet Archive made the transition away from the ABBYY FineReader OCR software to the Tesseract Open Source OCR engine. BHL's Technical Team ran a comparative analysis of some of our earliest digitized content (processed through earlier versions of ABBYY FineReader) to determine the possible benefits of reprocessing this content through the Tesseract OCR engine. Learn more.
New Article PDF Content Available
In early 2022, BHL added a new type of content for download – pre-generated PDFs for articles defined within BHL items. Though PDF downloads are not new to BHL, users were previously required to create a custom PDF which was then downloadable via a custom emailed link. The benefits of the new article downloads include no waiting, no selecting pages, embedded searchable text, and additional metadata about the article. Learn more.
Technical Development: Year in Review
In addition to the OCR reprocessing and new article downloads mentioned above, the BHL Technical Team also tackled a number of new features and critical upgrades in 2022, including a new text source indicator for our full text viewer; an author record sidebar to expose author data stored in the BHL database, a new open data collection including a full export of OCR text in BHL, and much more. Learn more.
---
Content Highlights
The Journal of Research on the Lepidoptera: A Story of Pirate Publishers, ISSN Hijacking and Fraudulent DOI Assignment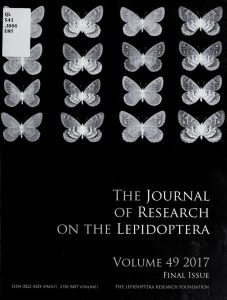 In 2017, The Journal of Research on the Lepidoptera published its final issue. The journal's website was turned off and, to ensure ongoing access to the biodiversity knowledge contained within its articles, all volumes (1-49) were made freely available on BHL. In January 2022, users discovered that the journal's former website had been resurrected by a third party and had begun publishing hundreds of articles, most of which were not related to lepidoptera (butterflies and moths). These new articles sat behind a paywall on the resurrected website and were assigned DOIs (digital object identifiers). As the hosts of the validly-published articles from the journal, BHL wished to assign DOIs to the articles published from 1962 through 2017, and bring them into the modern linked network of scholarly research. To do so, BHL's Persistent Identifier Working Group (PIWG) first had to untangle this web of fraudulent publishing and DOI assignment. Learn more.
Catalogue of All Specimens of Natural History Collected by Mr Blandowski's Party During an Expedition to the Lower Murray in 1857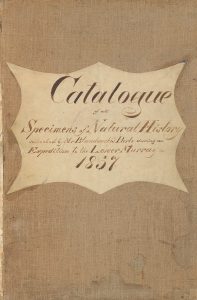 Blandowski's Catalogue is one of the most precious items held by the Museums Victoria Archives. It documents natural history specimens collected by William Blandowski (1822-1878) and Gerard Krefft (1830-1881) and colleagues working with First Peoples communities for the National Museum of Victoria (predecessor of Museums Victoria) during an expedition along the Lower Murray and Darling River from December 1856 to December 1857. Murray fishes listed in the Catalogue were later controversially used to describe prominent members of the Philosophical Institute in Blandowski's 1858 paper Recent Discoveries in Natural History on the Lower Murray. Blandowski refused to hand-over to Professor Frederick McCoy, the National Museum of Victoria's first Director, many of the specimens collected on the expedition, and associated research notes and illustrations, causing further controversy. Blandowski's Catalogue has recently been digitized by BHL Australia and is now available to view online. Learn more.
---
2022 Collection Stats
---
2022 Access Stats
---
2022 Outreach Stats
---
BHL Research Impact
Users often share how BHL, the world's largest open access digital library for biodiversity literature and archives, supports their research needs. Even as institutions returned to pre-pandemic operations in 2022, researchers continued to value the immediate access to materials from BHL to facilitate their work.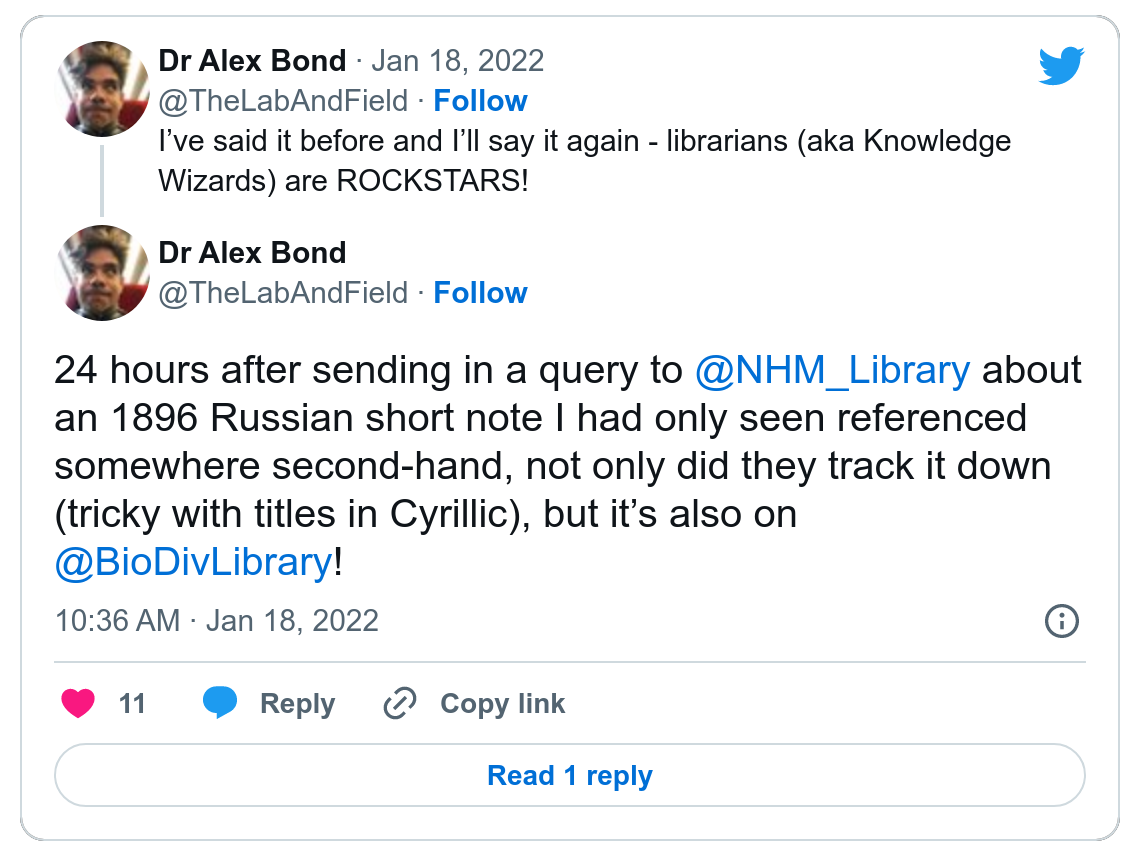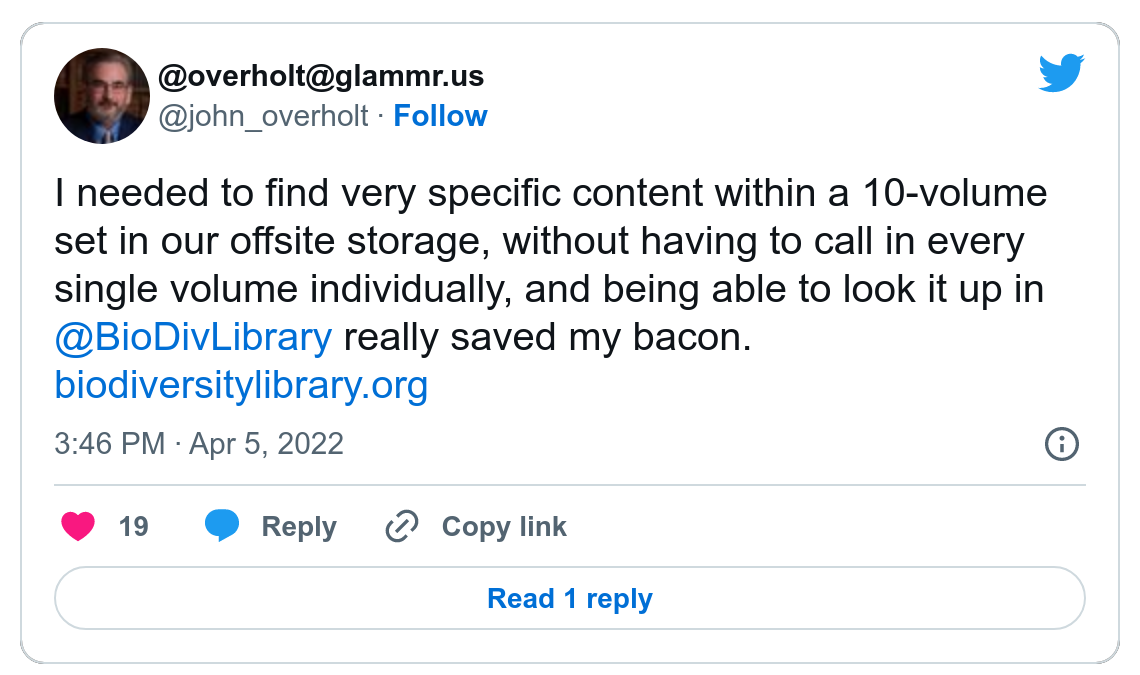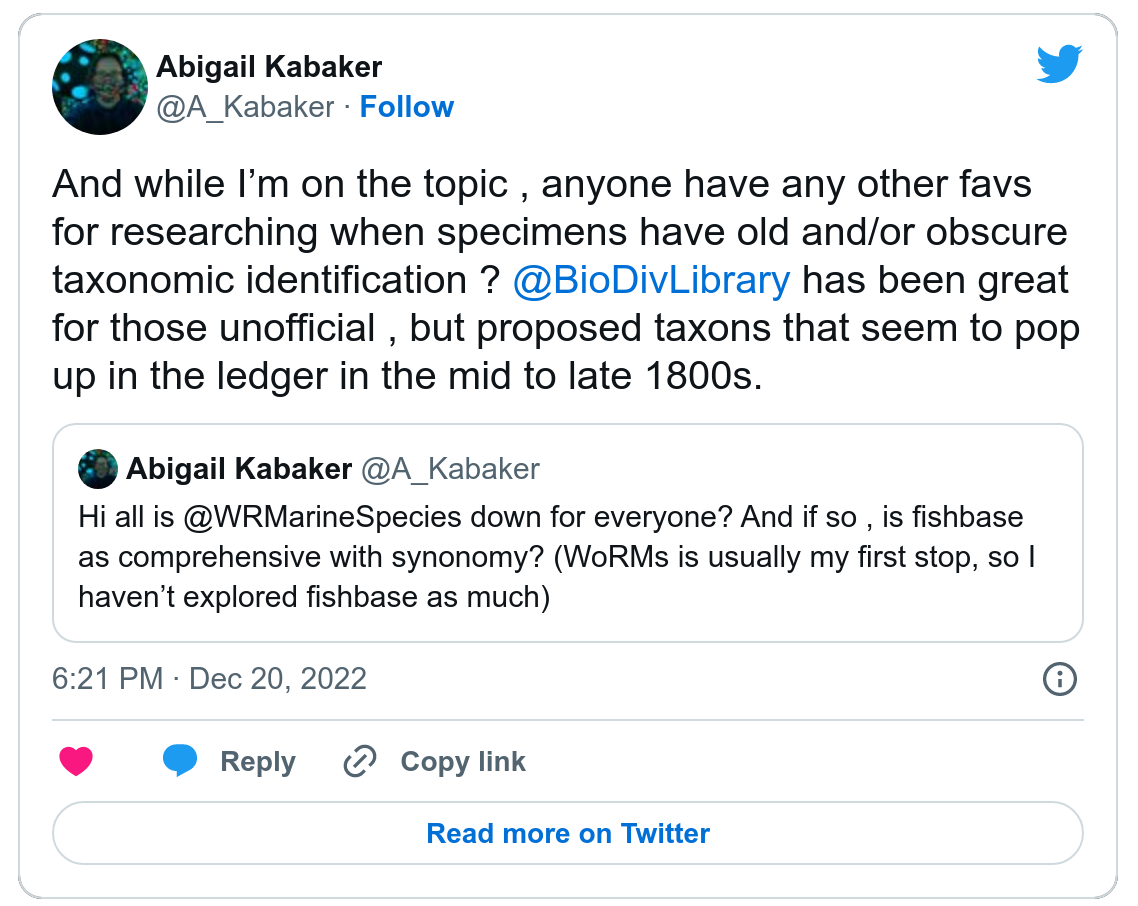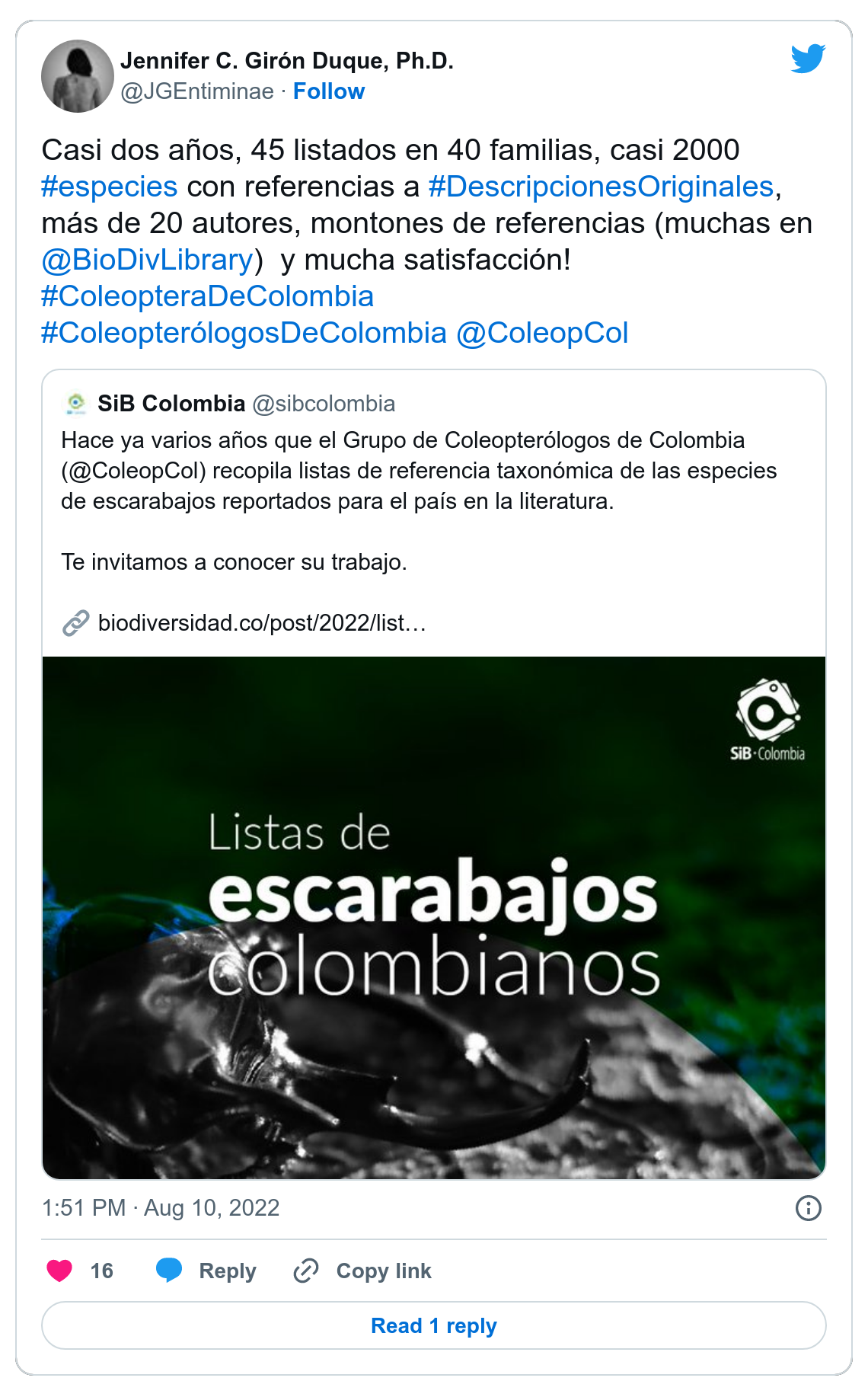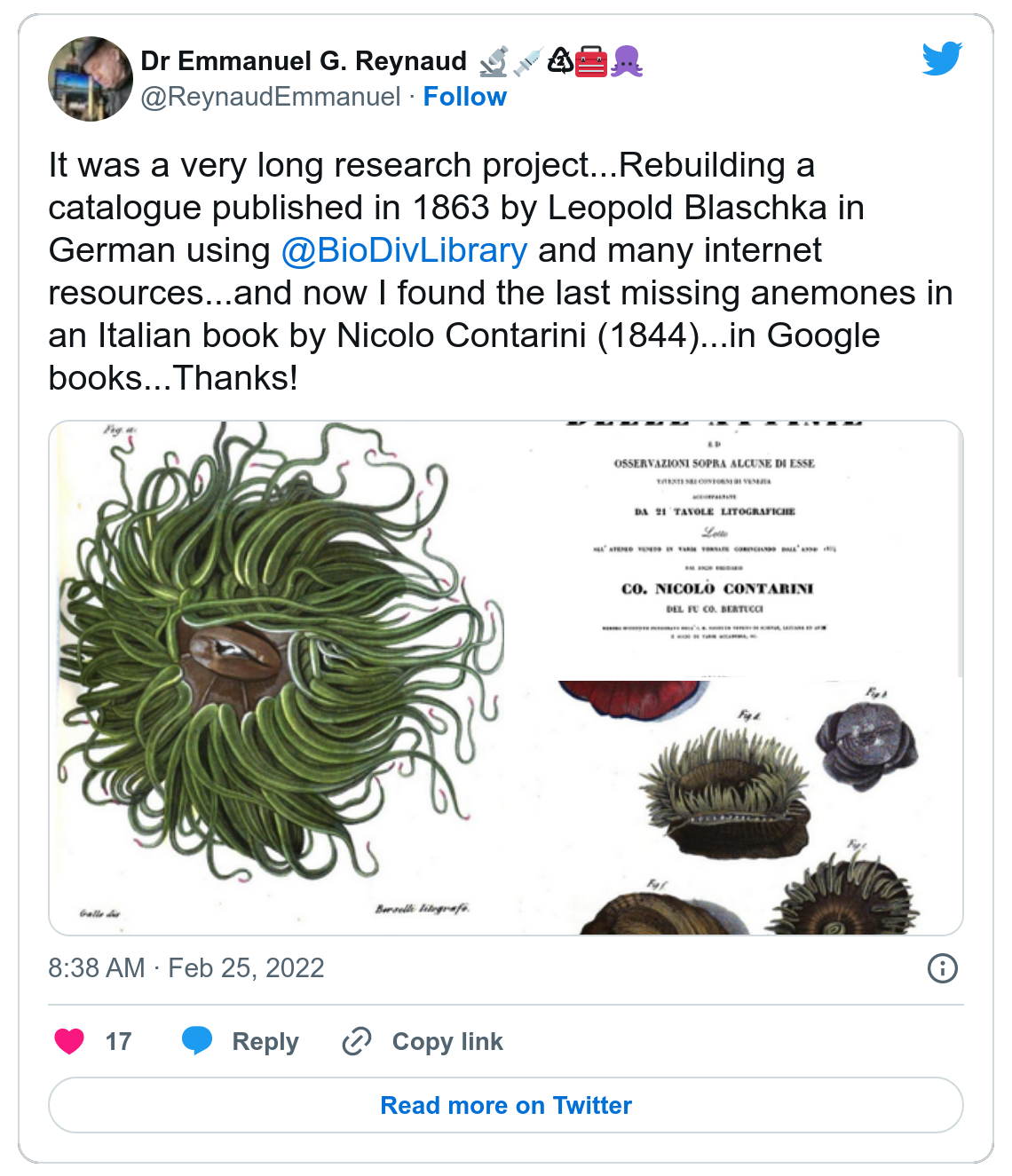 ---
About the Biodiversity Heritage Library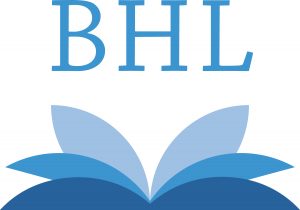 As the world's largest open access digital library for biodiversity literature, the Biodiversity Heritage Library (BHL) is transforming the way scientists, researchers, and librarians around the world access knowledge about and study life on Earth.
Natural history books and archives provide information that is critical to studying biodiversity. Replete with species data, ecosystem profiles, distribution maps, behavioral observations, and geological and climatic records, this literature underpins current scientific research and provides an historical perspective on species abundance, habitat alteration, and human exploration, culture, and discovery.
Through a worldwide partnership of natural history and botanical libraries, BHL provides free online access to over 60 million pages of biodiversity books and journals from the 15th-21st centuries. Additionally, BHL has made over 300,000 of the illustrations within its collection available on Flickr. Tools and services such as taxonomic name finding tools, custom PDF downloads, and open APIs allow users to easily locate and reuse these resources. BHL also supports a variety of volunteer opportunities that encourage the public to help enhance collection data.
Since the Library was founded in 2006, BHL has served over 13 million people in over 240 countries and territories around the world. In 2022, BHL averaged more than 224,000 visits per month, constituting over 27 million visits over the Library's lifetime.
BHL would also like to thank our many generous donors from 20 countries who collectively made 206 donations, amounting to 25,015 USD, in 2022.
By engaging with the scientific community to identify user needs, incorporating tools that facilitate data discovery and reuse, and continuing to grow collections under open access principles by fostering existing and establishing new partnerships with libraries and data providers around the world, BHL has become an unparalleled resource that serves as a standard for taxonomic literature aggregation, discovery and presentation as well as a model for other digital library initiatives.