There are many ways to download resources, and some are better suited for certain purposes than others. Below you will see some common uses suggested on the "useful for" lines, but of course there are many more ways to use the BHL collection.
You can find most of these options when you click on the drop-down menu for "Download Contents" to see various options while viewing a book.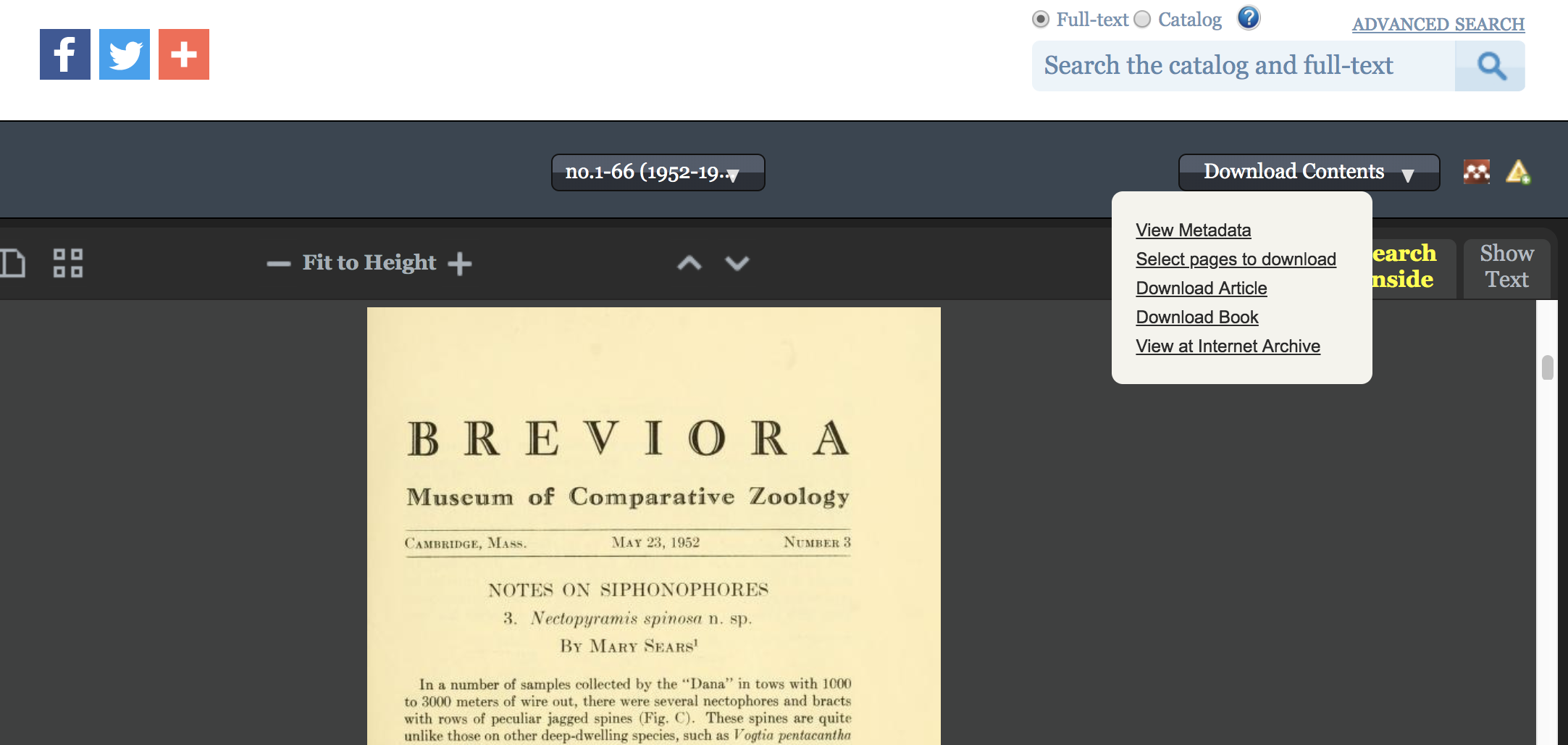 View Metadata – allows you to download data about the book in MODS, BibTeX or RIS formats

Useful for: citations, bibliographic needs

Select pages to download – allows you to generate a custom pdf containing only the pages you need

Useful for: choosing pages from one article to print or save

Download Article allows you to generate a PDF of an entire article

Useful for: Quickly and easily downloading an article without having to manually select pages
Note that the "Download Article" option will only be available if you are viewing content that has been defined as part of an article. Defining articles in BHL is an ongoing process, and not all articles in the Library have been indexed. Use the "select pages to download" option (above) if "Download Article" is not available.

Download Book has further options to view:

PDF = Download a PDF of the entire volume.
Useful for: saving or printing the entire book, saving to read on a tablet
All = Download all files associated with this book – links to the Internet Archive where you have access to image files, metadata files, and other derivative files – more information about available files including descriptions and file types.
Useful for: downloading the grayscale/black and white PDF version of a book (if available), and more
JP2 = Download ALL the jpeg2000 image files – there is one image per page, and each image file is usually 2-5MB so this can take quite a long time.
Useful for: saving or printing most of a book in high resolution
OCR = Download the plain text of the entire volume. Note: the plain text is created automatically using optical character recognition (OCR) software and has not been corrected or edited by humans.
Useful for: translating the text, searching for a particular word in a book, copying long passages

View at Internet Archive – takes you to a copy of the book at the Internet Archive

Useful for: searching inside the book, viewing it in a different interface
Other options include:
Printing or downloading a single page image (screen quality)

Useful for: printing a single image for personal use

Downloading a single page image (high quality)

Useful for: professional publication, large print of the image

Downloading all of the data in BHL

Useful for: scientific name research, etc.